TUTTOFARE
Dianex Tuttofare. One for all.
Dianex Tuttofare is the progenitor of non-woven cloths in Italy, with a soft and absorbent structure suitable for any surface, for deep cleaning and without streaks.
Available in packs of 1, 2 or 3 pieces, and in the multicolor format of 4 pieces in different colors.
PVA CLOTHS
The power of super absorbency.
Dianex Assorbitutto is a line of high-performance cloths produced in micro-perforated PVA.
Their main feature is their extreme absorbency and the ability to clean and dry surfaces in a single pass, without leaving traces.
FLOORS AND MOPS
Floors have no secrets.
The offer of cloths and products for cleaning Dianex floors ranges from p years in TNT to those in microfibre, with standard or micro-perforated surface, for all cleaning needs of individuals and communities.
The Lava&Assorbe versions, cloth or mop, have two different faces for a double cleaning action: lipophilic microfiber to attract and retain grease; eco-fiber to dry and polish the surface.
MICROFIBER CLOTHS
The ideal microfiber for grease.
Dianex offers high-performance microfibre cloths for particular purposes, such as super-cloths or glass, or in a universal version for all surfaces, such as the popular Ultrafibra, with lipophilic microfibre that captures and retains greasy dirt.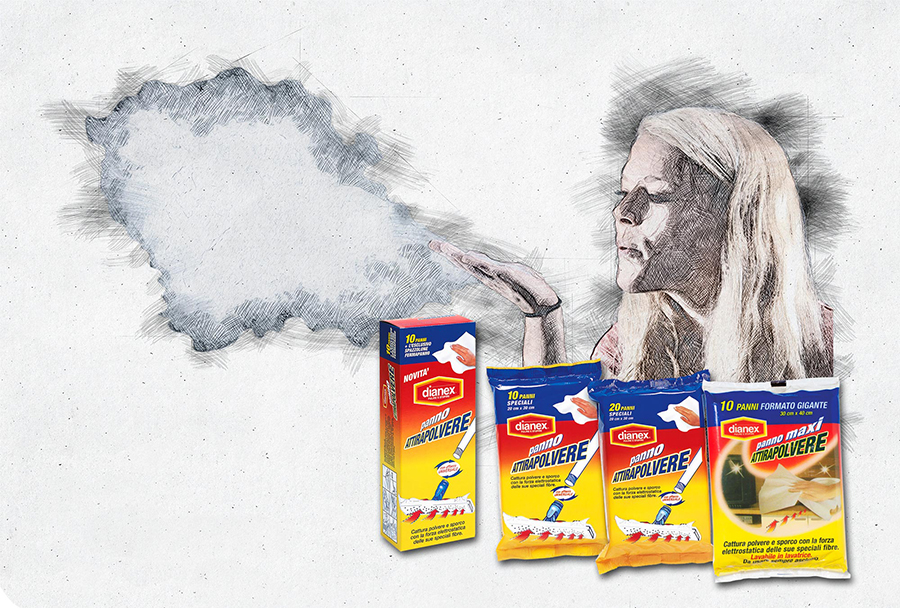 ATTRACT DUST
For the dust, the power of attraction.
Dianex Attirapolvere is the line of electrostatic cloths to capture dust easily.
There are maxi cloths to be used directly by hand on furniture and surfaces most exposed to dust for daily cleaning, or in standard format for floors, to a size compatible with most of the sticks on the market.
SANITIZING SURFACES
Sanitizing cloths for hard surfaces
Among the latest innovations in the domestic cleaning sector, the Dianex Verde sanitizing cloths for surfaces define a new type of product.
Disposable, impregnated with sanitizing liquid, they're ideal for the disinfection of surfaces, household, such as furniture, handles, knobs, taps etc. in order to prevent contamination of diseases caused by viruses and bacteria.