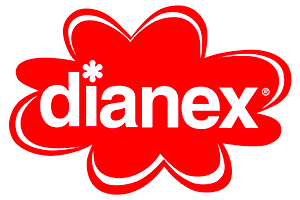 Dianex. The flower of cleanliness.
Dianex is a brand specializing in TNT (non-woven fabric) cloths, produced in Italy in the Facco factories on the outskirts of Milan.
The flagship product of the Dianex range is the Tuttofare handyman yellow cloth, available in different sizes and size, also for professional use. Its absorbent capacity and resistance make it a cloth suitable for all surfaces.
Dianex offers a variety of products for cleaning floors: not only cloths, in traditional non-woven fabric, micro-perforated or microfibre, but also mops and accessories for all the needs of individuals and communities.
Alongside non-woven and microfibre cloths, Dianex also offers innovative PVA* cloths that represent an alternative to traditional cloths. The extraordinary absorbency of the special synthetic PVA leather, combined with great resistance, allows you to clean and dry the surfaces in a single pass.
*Imported products
Dianex has been among the pioneers of TNT (non-woven fabric) cloths in Italy since the early 1970s. Today it offers a complete range of products for home and professional use.